Attention Volunteers: New Background Check Requirements for 2016
Please see the attached forms for detailed information.
Background Check Signature Form
Spring 2016 Registration Information
Registration for the 2016 Spring season is now open. Payment for 2016 must be by Credit Card, Debit Card or electronic Check at time of the online registration. Click the Registration tab to your left to get started.
If you would like to pay by check or request financial aid please download registration form and mail to: KAU address PMB 472, 873 East Baltimore Pike, Kennett Square PA 19348.
For detailed information about each division of play - click About KAU Programs to your left.
IMPORTANT RULE CHANGE: EFFECTIVE IMMEDIATELY FOR THE 2016 LITTLE LEAGUE SEASON FOR BASEBALL DIVISIONS ONLY
From Williamsport:
November 13, 2015
Little League Baseball to Begin Utilization of August 31 Age Determination Date for the 2018 Season; Children Born Between May 1 and August 31, 2005 to be Grandfathered as 12-Year-Olds For 2018 Season
Over the past couple of years, there has been a lot of discussion about the Little League Baseball Age Determination Date. This is an important topic to everyone involved in Little League, and Little League has sought input from volunteers, parents, and coaches that has helped guide District Administrators and the Little League International Board of Directors to ultimately change the Age Determination Date for all divisions of Little League Baseball and the Little League Challenger Division? to August 31. Please click here to read the full article to understand the changes.
For the 2016 Baseball and Softball Age Charts please click here.
Note: No change for Little League Softball.
KAU Divisions and Registration Fees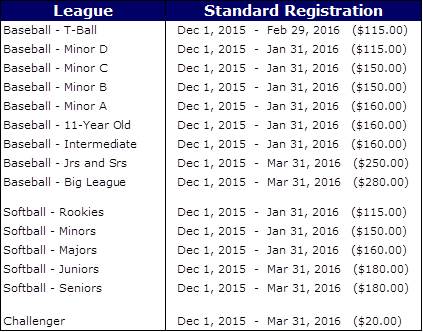 $25.00 Late fee for registrations received after standard registration date.